We are currently working with a large construction company who specialise in Property Renovations around Bridgend and the rest of South Wales.
They have approached us to take care of all the waste generated at each property.
By segregating the waste into separate piles such as rubble/stone, plasterboard, wood and general waste we are able to slash their disposal costs by half!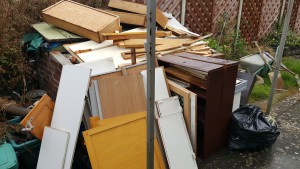 The property needed a full new kitchen, in the picture opposite shows the amount of wood removed. This also included some old wardrobes from one of the bedrooms.
The company had been quoted £249 for an 8 yard skip. We disposed of it for £120 !
Some construction companies like to use a skip to contain the waste, we can collect at a time of day or evening that suits you and the customer. If you have an area to store the waste prior to collection why hire a skip? We are always cheaper and we only take away and charge for the waste you have generated. A skip can quickly become full from other neighbours waste leaving you with the bill for disposal.
Old kitchen units, old bathroom suits, old sheds, old furniture and other items left at the property. We can take care of the disposal for you!
Gardens need maintenance or lawns need cutting, again we can clear the waste and get your garden back to how you want it.
Contact us for a quote today and save money on your next construction or renovation job.